Catering for other occations
Some occasions are more important than others – but food is an important part of most of them, non regarding. If you live in Oslo, Fredrikstad or Tromsø, we can offer catering of Spanish tapas for all occasions, no matter if you are organizing a christening, Christmas party, birthday party, bachelor party, funeral or another event. In Oslo we also have a wider range of menus if you are ordering for a bigger amount of people; like Peruvian tapas from our sister restaurant Aymara, or pinchos and finger food
See our catering menu in Fredrikstad
See our catering menu in Tromsø
Catering for birthday parties and anniversaries
Regardless of whether you are going to organize a birthday party or celebrate an anniversary with even numbers, a wedding anniversary or other occasions, the day should be about you and your dear ones. By ordering catering for the celebration, you can enjoy good company with family and friends without having to do the cooking yourself. See the menus and dishes we have available on our online store, where you can easily place an order. If you have any questions, just send us an email and we will help you find the dishes that are perfect for your event. The food is delivered on terracotta platters, ready for serving on a buffet or on tables. If you want to hire cutlery and plates, we can also offer this for large companies upon request.
Catering for baptisms and baby showers
Pinchos or other finger foods are perfect for baptisms or baby showers, when you want to celebrate the start of a new life. Taking care of both guests and a slightly restless main (mini) person in a baptism can be demanding, as you also want to spend time with your guests. By ordering catering, you get one less thing to think about. At the same time it opens up the possibility of being able to serve a wide selection of dishes that are suitable for both young and old. Choose one of our menus, or contact us for guidance. We can deliver exactly as little or as much as you need to make your day unforgettable!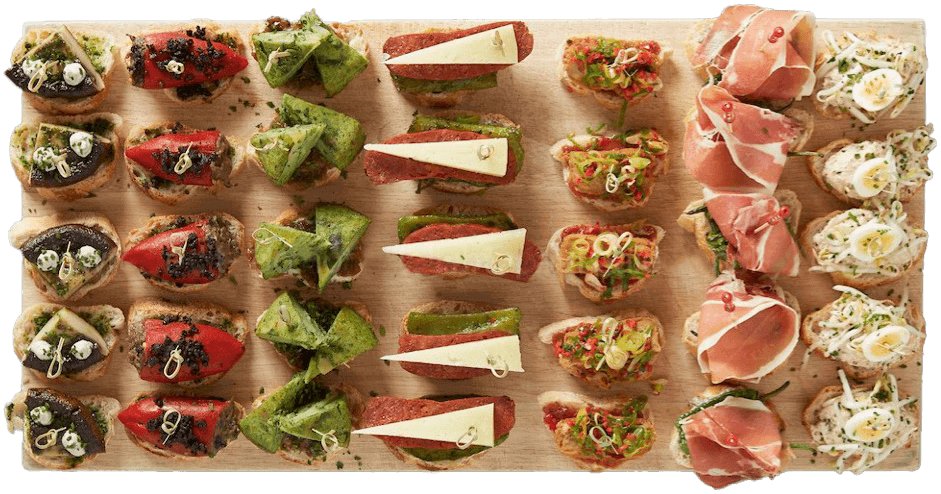 Catering for funerals
After a funeral ceremony, it is suitable to serve food that is both social and easy to eat – whether at home or in a congregation home. By choosing one of our finger food menus, you get dishes that are appropriate for the occasion, regardless of the number of guests. If you can't find something that fits on our order site, you can send us a request by email. Our menus are delivered ready to serve in beautiful terracotta bowls and plates, so that it is easy to display the food on a buffet or table.
Catering for bachelor parties
On a day where partying and fun should be the primary focus, it's good not to have to spend time preparing, wrapping and unpacking food. Order food from Delicatessen Catering, and present ready-made and easy-to-eat tapas instead! Check out our menus, and choose between picking up the food yourself, or having the food delivered to your venue!
Catering for Christmas parties
Christmas is a holiday that many of us look forward to. It is full of good spirit and high expectations – not least for the food we will enjoy. Regardless of whether you are planning a Christmas lunch at the office or a Christmas party for a group of friends, we can deliver suitable catering that helps create the good atmosphere. Contact us if you want recommendations for tapas, or other help with catering for your Christmas party.