Get to know the chefs behind our Spanish tapas menus; catering manager Sebastién Campa, and Delicatessen co-founder Rodrigo Belda!
The Delicatessen Catering adventure began completely organic at Delicatessen Grünerløkka in the early 2000s. Restaurant guests started asking about catering – and so they got catering. As the demand increased, the catering project had to get bigger and separate facilities. In 2014, Delicatessen Catering therefore moved into its own, spacious premises at Carl Berner, and today we deliver food to quality-conscious customers more or less seven days a week!
Sebastién Campa
Sebastién has been the manager of Delicatessen Catering since it all started, and has a long experience as a chef in both France and Norway. After Sebastién finished cooking school in France in 1997, he has been working as a chef both at restaurants and within the catering industry; at La Ribaudière (1 Michelin star), Solsiden Restaurant and Delicatessen Grünerløkka, to mention some.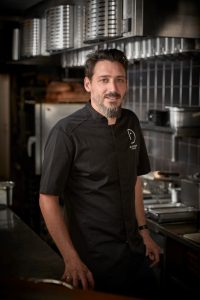 As head chef at Delicatessen Catering, he has put his mark on our menus in line with our Spanish concept, ever since we opened the catering division in 2014. They say that the devil is in the details, and for Sebastién, our food is not good enough until taste, texture, appearance and overall experience are perfect.
Sebastién is passionate about good customer experiences, and always puts the customer first – almost no matter what type of request you come up with.
Rodrigo Belda
Rodrigo is one of the founders and co-owners of Concept Restaurants, who owns the Delicatessen-restaurants, Delicatessen Catering and Aymara Peru. Rodrigo has many years experience from the restaurant industry; both in operations, management and as a chef. Rodrigo was also central in developing Delicatessen Grünerløkka in 2000 – where it all started.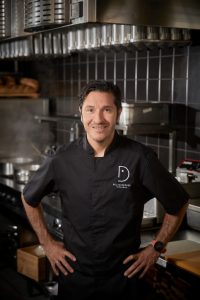 Rodrigo came to Norway from Chile in 1988. His interest in the restaurant business started at cooking school in Kongsvinger. After that, he did his apprenticeship at Oslo Plaza and eventually moved on to work at Grand Hotel.
Already as a 22 year-old, he became head chef at Delicatessen Grünerløkka in year 2000 – and this is where the story of Delicatessen Tapasbar began. Rodrigo travels to Spain many times a year, and has also visited Peru, to ensure the quality of our food always is top notch.
Along with catering manager Sebastién Campa, Rodrigo develops all of our menus, based on the best Spanish and Norwegian produce available at all times.